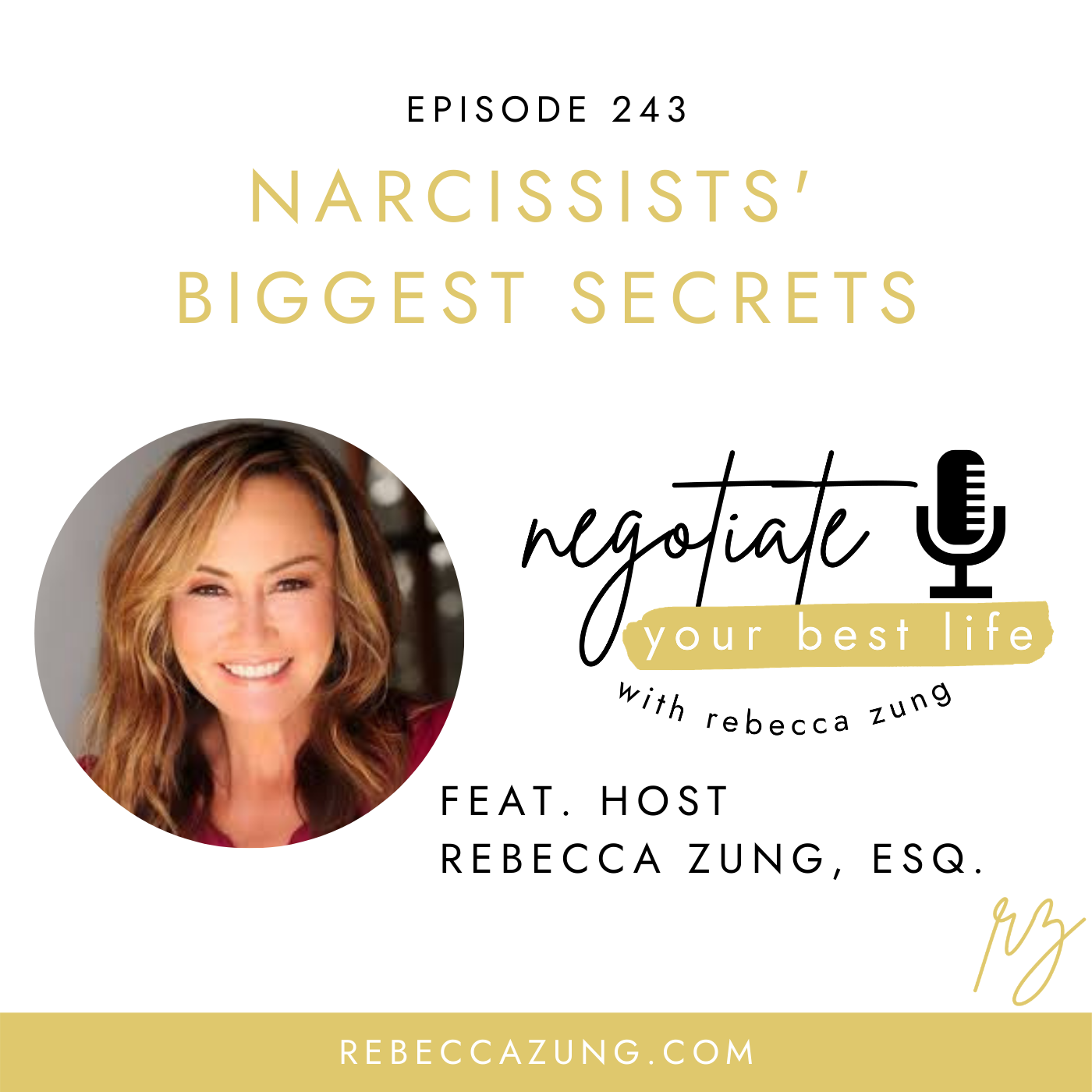 WHAT NARCISSISTS DON'T WANT YOU TO KNOW//Do you want to know what the narcissist in your life doesn't want you to know or find out? Other than the hidden money, the lying, and the cheating, narcissists have so much more that they are hiding from you. Listen to this episode with host Rebecca Zung, Esq. to find out what the narcissist in your life is hiding and doesn't want you to know and what might happen if they know that you have figured them out.
More About Rebecca
Rebecca Zung is one of the Top 1% of attorneys in the nation, having been recognized by U.S. News & World Report as a "Best Lawyer in America", as "Legal Elite" by Trend Magazine, and recognized by her peers and the judiciary as AV(c), preeminent rated in family law, the highest possible rating for an attorney by Martindale Hubbell. But her journey wasn't always easy. Married at 19 the first time, she had 3 children by the age of 23 and then was a divorced single mom when she decided to go back to law school. She went from being a single mom, college dropout, to becoming one the most powerful lawyers in the country at the helm of a multi-million dollar practice. She is now committed to sharing her secrets and empowering others to live their lives at their optimum level of success, professionally and personally.
Her perspectives are in high demand by television and print outlets, as she has been featured in or on Extra, Forbes, Huffington Post, Newsweek, Time, Dr. Drew, NPR Talk Radio, Good Day New York and CBS Los Angeles among others.
Now, Rebecca remains a partner in Long, Murphy & Zung, and is based in Los Angeles and Florida. She is continuing to serve through her incredible on-demand programs such as S.LA.Y. Your Negotiation With a Narcissist, and her Breaking Free Divorce Masterclasses. She is also the host of the popular show Negotiate Your Best Life™ which is available on YouTube and as a Top Podcast, and also is a frequent keynote speaker.
_______________________________________________________________________________________
THIS WEEK'S SPONSOR INFORMATION:  
If you are interested in online counseling, Rebecca has a sponsor who can assist. If you feel you are in struggling,  please seek the help you deserve: https://www.betterhelp.com/RebeccaZung   We receive commissions on referrals to BetterHelp. We only recommend services that we trust.
____________________________________________________________________
For more information on REBECCA ZUNG, ESQ. visit her website www.rebeccazung.com and follow her on Instagram: @rebeccazung and YouTube!
GRAB YOUR FREE CRUSH MY NEGOTIATION PREP WORKSHEET RIGHT HERE! 
SUBSCRIBE TO MY YOUTUBE CHANNEL RIGHT HERE. 
Grab a copy of Rebecca's book, Negotiate Like You M.A.T.T.E.R.: The Sure Fire Method to Step Up and Win (foreword written by Robert Shapiro).   It went straight to being a #1 bestseller the first day it was launched!  Find out what everyone is so excited about - get the book RIGHT HERE! 
To get your copy of Rebecca's bestselling book, Breaking Free: A Step by Step Guide to Achieving Emotional, Physical and Spiritual Freedom, please visit the Amazon website to order it RIGHT HERE.   
_______________________________________________________________________________________________________________
CONTACT US:  rebecca@rebeccazung.com
WEBSITE:   www.negotiateyourbestlifepodcast.com
........................................................................................................................
Remember to follow THE NEGOTIATE YOUR BEST LIFE PODCAST on social media for updates and inside tips and information:
Finally, we'd really appreciate it if you would visit iTunes and give us a 5 Star Rating and tell us what you like about the show - your feedback really matters 
DISCLAIMER:  THE COMMENTARY AND OPINIONS AVAILABLE ON THIS PODCAST ARE FOR INFORMATIONAL PURPOSES ONLY AND NOT FOR THE PURPOSE OF PROVIDING LEGAL ADVICE.  YOU SHOULD CONTACT AN ATTORNEY IN YOUR STATE TO OBTAIN LEGAL ADVICE WITH RESPECT TO ANY PARTICULAR ISSUE OR PROBLEM.